FREQUENTLY ASKED PUBLIC HEALTH CAREER QUESTIONS
Why/how did you get into public health?
---
I found public health while in undergrad. I chose to major in Community/Public Health while at the University of Central Oklahoma and then attended the University of North Texas Health Science Center for my Master of Public Health (MPH). I speak more about this on The Public Health Millennial Career Stories Podcast episode "Journey to Health Policy Analyst with Shelby Graves, MPH CHES." I also joined my current team to discuss working in public health on the Harford County Living Podcast episode "Creating the Healthiest Nation."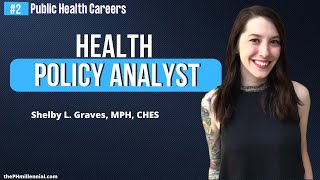 ---
Is public health a "good" or a "safe" field to go into?
---
Public health is certainly growing and gaining national recognition. One of the best parts of working in public health is the opportunity to collaborate with a variety of sectors and departments. As the general public begins to recognize the value of public health in addressing social injustices, health equity, and pandemic prevention and response, the field will only continue to grow.
---
Can I still work in public health if I don't have an MPH?
---
You do not need a Master of Public Health (MPH) to work in public health. Many professionals enter public health with health science, health education, social work, and clinical health backgrounds. In addition to this, many people practice in public health with business, non-profit, education, and other backgrounds. There really is a place for everyone in public health! If you have a background in a field that seems unrelated, I can help you to identify opportunities to work in public health.
---
What advice would you give to a current public health student?
---
This is a very broad question that I receive on a regular basis. I have so much advice to give to current public health students, but it is ultimately dependent upon their particular interests and their current academic program. Here are a few general pieces of advice I can give to everyone:
Find a mentor.

Finding a mentor in a senior student, faculty member, current public health professional, or internship coordinator will set you up for success in both study and practice.

Get your feet wet.

Dive right into public health field experience wherever you can! This could be through a formal internship, practicum, or fellowship. This could also be through volunteer work or a mentorship program. The more experience you have, the better equipped you will be to select an area of concentration and to prepare for future job interviews.

Take advantage of your program's professional development and networking opportunities.

Engage in professional development opportunities as they arise, such as mock interviews, effective communication training, and team building exercises. Attend networking events to meet fellow students, alumni, and current public health professionals – you never know what opportunities can come from a simple meet and greet.
---
Should I take the CHES exam?
---
I highly recommend the Certified Health Education Specialist (CHES) exam for aspiring or early career public health professionals interested in health education or the planning, implementation, and evaluation of health promotion programs. Your particular career track may not require the CHES, so it is important to look at the NCHEC responsibilities and competencies to determine if they align with your intended practice. I passed the CHES six years ago and have greatly benefitted from the certification.
---
Should I take the CPH exam?
---
Some graduate programs encourage or require the Certified in Public Health (CPH) exam. My graduate program required the CPH for graduation, so I sat for and passed this exam in 2016. The CPH essentially certifies that a student/professional meets the core standards of public health practice. Most MPH (and similar) degree programs already certify these standards are met prior to graduation through comprehensive exams. The CPH has gained traction in the past few years and is becoming a more popular preferred qualification for job applications. Learn more about the CPH exam at the NBPHE website.
---
What area of public health should I concentrate in?
---
I often say the most challenging aspect for many of us in public health is selecting our area of concentration. While I cannot tell clients what they should or should not concentrate in, I can help them to narrow down their potential career tracks and make a plan for finding their best fit. For more information, please see my services page: Public Health Career Sessions.
---
Where can I go to learn more about job hunting in public health?
---
I share job hunting advice on my Instagram page @seriously.shelbs. I have also authored comprehensive materials to assist young professionals in their job search. If you would like to view my "Job Hunting 101 Guide," see my products page. I will continue to add and share public health job hunting resources as they are created.
---
Can you help me to prepare for my job search/interview/new role?
---
I love to help aspiring public health professionals in their job searches from start to finish. See my products and services pages for more information.
---
Where can I go to hear more stories about how current public health professionals found their way in the field?
---
---
---
I love working with current and aspiring public health professionals. I am always happy to give advice and guidance to you all. I've found that I receive many of the same questions on a daily basis, so I have decided to include my responses to some of these common questions below. If you need guidance specifically geared toward your academic and career history or for your unique public health goals, please see my services page for information about Public Health Career Sessions.